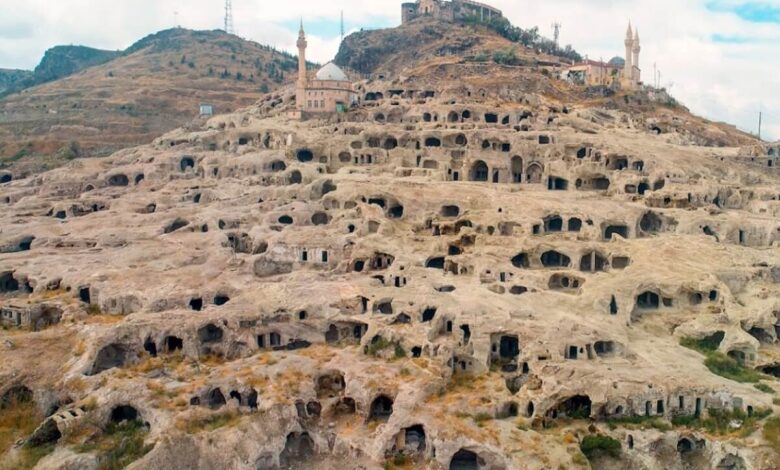 Castle and Kayasehir in Nevsehir: The rock city which spreads over a very large area, has a size of 437,400 square meters. Apart from the underground city, there are also carved structures around the castle here. For this reason, the rock city is very popular and hosts many visitors.
There is a carved hillside settlement on an area of ​​123,000 square meters around the castle. There are many places to visit in the slope settlement. You can easily visit the monastery, which dates back to the 6th century BC, the rock church built in the Byzantine period, houses and workplaces, bezirhanes, horse stables, striking multi-storey tombs, keystones and safe passages and many other places around.
Nevsehir Castle and Rock City
In the area on the south side of the castle, formerly known as the Greek Quarter, there are water tunnels, fountains, the Bell Tower, which is the only part of the Hagios Georgios church that has survived to the present day, the remains of the bath and especially the Virgin Mary church.
As a result of the excavations, 312 sites were identified in this area. A total of 700 gallery rooms are open to visitors.
There are more than a hundred places in the underground city. Among these areas, the bezirhanes are of great importance. There are many types of seeds, especially flaxseed.
As a result of the archaeological excavations carried out in the region, many historical remains are found. Among these remains are materials such as pots, bowls, hand mills, grinding stones. Apart from these finds, there are also remains such as 40 coins, 270 oil lamps, 21 tombs, 12 grinding stones and 51 candlesticks dating back to the reigns of Mahmut II, Sultan Abdülmecid and Sultan Abdülaziz.