Konak is the center of Izmir and there are many beautiful places to visit, especially around the coastline and the clock tower. Konak region is one of the places visited by local and foreign tourists in Izmir. The coastline is suitable for many activities. In addition to places to visit, there are many options for shopping.
Izmir Konak Attractions
There are many important buildings and historical places to see in Izmir Konak, and it is also famous for its walking paths along the coast.
In Konak district of Izmir, many people spend their free time on the coastline. The coastline is where there are entertainment venues apart from cafes and restaurants. There are many historical and touristic places in İzmir. The places we recommend are the best places to visit in Konak.
Kordon Alsancak Izmir – walk, Activities and Entertainment
Kordon Alsancak, one of the most popular walking areas in Izmir Konak, is also one of the best places for cafes, entertainment venues and a different activity. This cordon is definitely one of the first places that come to mind when Izmir is mentioned. You should definitely see this area where there are magnificent walking paths, restaurants, museums and cafeterias along the coast.
Kordon Alsancak is the best place if you want to witness the sunset while enjoying both the sea and the sun to the fullest. Kordon Alsancak Izmir will definitely be the most recommended place to you when you do research such as where to see and visit places in Konak .
Izmir Historical Elevator Building (İzmir Tarihi Asansör Binası)
If you want to watch Konak district from a bird's eye view, this is the right address. It is one of the symbols of not only the district but also the province of Izmir. You can also enjoy the magnificent view while sipping your coffee in the cafeteria inside. Especially if you are someone who goes to Izmir for the first time, then this place should definitely be on the top of your Konak travel list .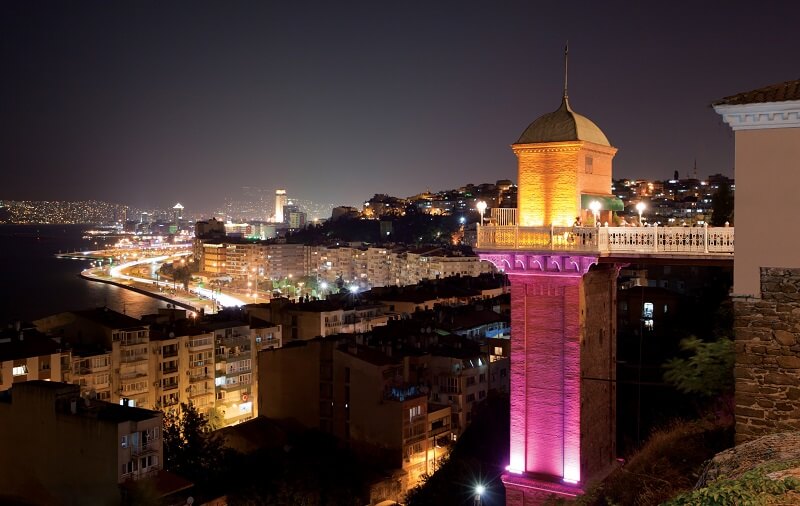 Izmir Archaeological and Ethnography Museum (Arkeoloji ve Entografya Müzesi)
It is one of the museums in Turkey where the most important works are exhibited. In this museum, you can find many important artifacts, inscriptions, sculptures, as well as items used in daily life by civilizations that lived in the region in ancient times. Especially when you see the old period jewelry exhibited in the museum, you will be amazed by the handmade works and mastery of those times.
Kadifekale (Kadifekale Suru)
Located on a hill overlooking the district, this castle is one of the must-see places, although it has not fully survived. Thanks to the social facilities around, you can also have the chance to meet all your needs during your visits during the day.
Agora Open Air Museum in Konak Izmir (Agora Ören Yeri)
The remains of the region, which was used as a bazaar or market by the Greek and Roman civilizations who lived in the region in ancient times, are located in this region. You can easily reach the area, which is now organized as an open-air museum, and learn about the daily lifestyle of those times. If you want to plan an enjoyable trip, then this region should definitely be one of the first places that should be on your list of places to visit in Konak .
Izmir Clock Tower (İzmir Saat Kulesi)
It is a historical building that was built in 1901 to celebrate the 25th anniversary of the accession of the Ottoman Sultan Abdülhamit II. This tower, which is 25 meters high, has a 4-storey structure and the clock on it is actively working. It is shown as the most important and best known structure of Konak Square. Since there are many important structures in the vicinity, you can see not only this tower but also other important structures during your Konak Square tours.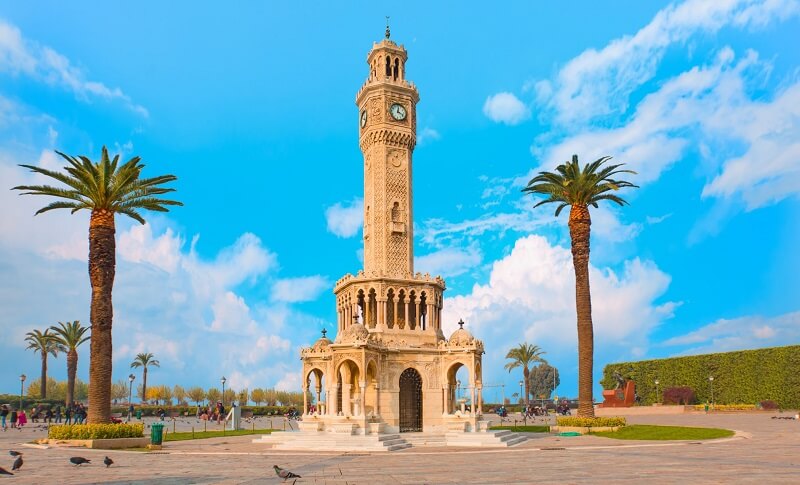 Kizlaragasi Inn (Kızlarağası Hanı)
It is an old Ottoman inn, built by Hacı Bekir Aga in 1745 and today houses both shops and hotel rooms. According to many people, this place is shown as one of the most must-visit places not only in Konak district but also in İzmir. You should definitely include this area in your must-see list in Konak, as it has many social areas where you can spend time and also has an architecture that will make you feel old times.
History & Arts Museum (Kültür ve Sanat Müzesi)
This museum, which contains many important artifacts from different regions of Turkey, will offer you the opportunity to take a journey into history. You can visit the museum, which includes especially Greek sculptures, ancient artifacts, as well as coins from different periods, both on weekdays and on weekends. Especially if you want to spend your free time with museum visits, it is one of the best addresses for you.